Roll over image to zoom in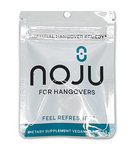 Description
NOJU Anti-Hangover Pills Pouch 1 dose / 4 pills (750mg)
The essential vitamin to consume after enjoying a drink and in the morning. Consume it after your celebration and when you wake up to ensure you wake up feeling rejuvenated.

Crafted from high-quality ingredients to ensure the best possible results.
Pouch contains 4 pill (750mg) for 1 dose (2 when you sleep and 2 when you wake up)
Payment & Security
Your payment information is processed securely. We do not store credit card details nor have access to your credit card information.